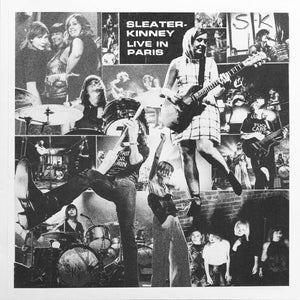 Sleater-Kinney - Live in Paris
Live in Paris is the first official record of Sleater-Kinney's famously blistering stage performance. The thirteen-track album, which features Carrie Brownstein, Corin Tucker, Janet Weiss, and touring member Katie Harkin, was captured on March 20th, 2015 at the Paris's historic La Cigale venue, during the band's sold-out, international tour in support of their acclaimed eighth album, 2015's No Cities to Love. 
 
Live in Paris includes songs from nearly every Sleater-Kinney album, including No Cities to Love, The Woods, One Beat, The Hot Rock, Dig Me Out, and Call the Doctor. The recording was mixed by long time collaborator John Goodmanson and mastered by Greg Calbi. 
TRACKLIST: 
Price Tag (Live) 

Oh! (Live) 

What's Mine Is Yours (Live) 

A New Wave (Live) 

Start Together (Live) 

No Cities to Love (Live) 

Surface Envy (Live) 

Play 

I Wanna Be Your Joey Ramone (Live) 

Turn It On (Live) 

Entertain (Live) 

Jumpers (Live) 

Dig Me Out (Live) 

Modern Girl (Live) 
US import 
CD housed in gatefold card sleeve with wide 10mm spine 
also available:
Sleater-Kinney - Sleater-Kinney   LP | CD 
Sleater-Kinney - Call The Doctor   LP | CD 
Sleater-Kinney - Dig Me Out   LP | CD 
Sleater-Kinney - The Hot Rock   LP | CD 
Sleater-Kinney - All Hands On The Bad One   LP | CD 
Sleater-Kinney - One Beat   LP | CD 
Sleater-Kinney - The Woods   2LP | CD 
Sleater-Kinney - No Cities To Love   LP | CD 
Sleater-Kinney - The Center Won't Hold   LP | CD 
Sleater-Kinney - Path Of Wellness   LP | CD 

see also: 
Heavens To Betsy - Calculated   CD 
Heavens To Betsy - These Monsters Are Real   7" EP 
Quasi - Breaking The Balls Of History   LP | CD 

books about Sleater-Kinney: 
Carrie Brownstein - Hunger Makes Me A Modern Girl   paperback 
Jovana Babovic - Sleater Kinney's Dig Me Out   paperback 
Sara Marcus - Girls To The Front   paperback 
---
We Also Recommend
---