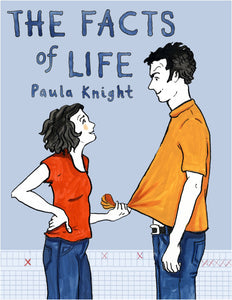 Paula Knight - The Facts Of Life
A clarion call to recognise that parenting isn't the be-all and end-all of family life, Paula Knight's extraordinarily powerful graphic memoir is a beautifully drawn, funny and sometimes painful exploration of what it takes to be a woman, and a mother – or not.
In 1970s Northeast England, best friends Polly and April are sitting up a tree, whispering about periods and swapping their hazy knowledge of the facts of life. They both expect to have families one day – it's the normal script to follow, isn't it? But, as they grow up, education and career become important, too, and they believe that they can have it all.
When, some years later, Polly settles with Jack, her career has taken off and she feels torn over whether or not to try for a baby. Has she left it too late? Did she have any control over that choice? They go ahead, but after repeated miscarriage and chronic illness take their toll, Polly must confront what family means in a society where 'family' usually means 'children'.
'This funny, affecting and poignant graphic memoir…tells the semi-autobiographical story of Polly, and her journey of acceptance that her long-nurtured expectations of becoming a mother are never to be fulfilled.' Caroline Sanderson, Mslexia
---
We Also Recommend
---