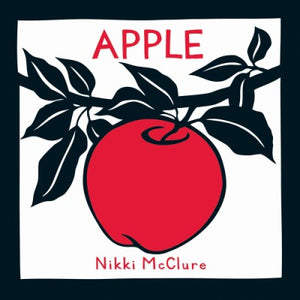 Nikki McClure - Apple
The life cycle of an apple, illustrated by acclaimed cut-paper artist Nikki McClure
This board book, featuring Nikki McClure's signature papercuts, follows the journey of a bright red apple—the only splash of color in the otherwise black-and-white illustrations—as it travels from tree to harvest to snack to compost and, finally, to sprout.
In the opening spread, a ripe, red apple falls from a tree, and a man gathers it to take home. His daughter takes the apple to school for lunch, but mistakenly drops it after taking a bite. Left on the ground, we see the apple buried as the seasons change and children come and go on the playground above. On the final spread, the buried apple has produced an apple tree sprout. A single word complements each illustration, urging early readers to reflect on each stage in the apple's life.
Nikki McClure is a self-taught cut-paper artist who illustrates gift products as well as many books for children. She lives in Olympia, Washington.
---
We Also Recommend
---