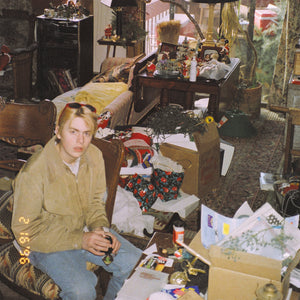 The Moving Pictures - Fake Books
Fake Books finds Olympia, WA's Moving Pictures four years after their debut album with three less members and eight new downbeat lo-fi tremelo-pop songs.
The long-anticipated LP from a group not known for a continuity of sound might surprise new listeners with its congruity and coherence in their most traditional rock'n'roll output yet. Traditional in the sense of an exacting guitar tone as the ultimate guide. Traditional in that this iteration of Moving Pictures consists only of one person, in this case a poet and his guitar.
Through this lens we watch a reel of familiar concepts - flowers, books, loneliness - repeat themselves reverberated through the artist's singular voice. And while sparse, the songs are lush and expansive, every poem in strict adherence to a sonic landscape where the form is as important as the content and each belabored guitar tone feels like just another frame of the story. The story is not a happy one - it's a raw and solitary affair punctuated with steel guitar, synths and a 606 drum machine. Such upbeats are necessitated when such a crushing narrative is laid bare in between tremolo caverns. There are no easy answers on this landscape, but instead when lent to repeated listens the sadness slowly morphs into pop music and the songs linger for long after the record is done.
Recorded in a mix of self produced home sessions and continued teamwork of Olympia engineer Capt. Tripps Ballsington (Milk Music, Ribbon Stage, Gun Outfit, CC Dust). 
TRACKLIST: 
Loved One 

Flowers on the Wall 

Nothing Fades (Like Love) 

Raton 

Holiday Ennui 

Obliteration Room 

Crush Box 

No Name 
US import 
Co-released by K Records and Perennial 
browse collections: 
K Records collection 
browse all new releases... 

---
We Also Recommend
---