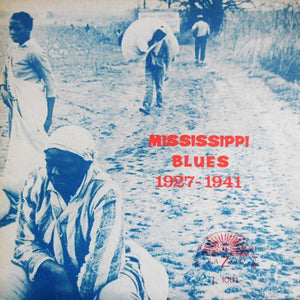 Various - Mississippi Blues (1927-1941)
Since its inception during the late 1960s, Yazoo Records has long been considered the standard-bearer for the rural roots sounds of America. From its ranks came collection after collection of some of the rarest early blues, jazz, country, folk, and gospel artists in music history, re-introducing the world to lost legends like Ma Rainey, Blind Lemon Jefferson, Mississippi John Hurt, and many more. Artists whose impact has been felt generations later, and continue to inspire and influence. 
 
This class of artist can be found all across the fourteen tracks of Mississippi Blues, a compilation of country blues music originally released by Yazoo in 1968. Featuring tracks recorded between 1927 and 1941, and an artist lineup that is the stuff of legends: Charley Patton, Robert Johnson, Son House, Skip James, Mattie Delaney, and so many more. 
TRACKLIST: 
 Harvey Hull & Long "Cleve" Reed - Gang Of Brown Skin Women 

Henry Sims - Be True Be True Blues 

William Harris - I'm Leavin' Town 

Skip James - Special Rider Blues 

Skip James - Cypress Grove Blues 

Charley Patton - Hang It On The Wall 

Geechie Wiley - Eagles On A Half 

Mattie Delaney - Tallahatchie River Blues 

John Byrd - Billy Goat Blues 

Charley Patton - Mean Black Moan 

Charley Patton - Pea Vine Blues 

Bobby Grant - Nappy Head Blues 

Son House - Delta Blues 

Robert Johnson - Dead Shrimp Blues 
US import 
Features the original sleeve art 
also available from Yazoo Records: 
Various - Guitar Wizards 1926-1935   LP 
Blind Willie McTell - 1927-1935   LP 

see also: 
Robert Johnson - Cross Road Blues   LP 
Son House - The Complete Library of Congress Sessions 1941-1942   CD 

browse collections: 
Blues collection 
Americana collection 
Traditional/folk music collection 
---
We Also Recommend
---