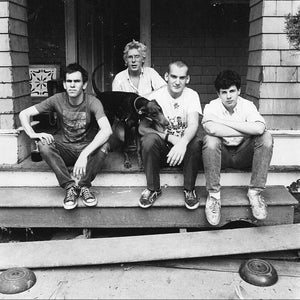 Minor Threat - First Demo Tape
At the start of 1981, a few months after forming, Minor Threat, recorded their first demo tape with Don Zientara at Inner Ear Studios, then situated in the basement of Don's small house in Arlington, Virginia. The band played in his kids' playroom, while Don ran the 4-track in the adjacent boiler room. The results are not dissimilar to their first 7" EP, which was recorded in the same way a month later, and released in June 1981 as the third release on the band's fledgling Dischord Records. 
 
A little slower, a little rougher around the edges, this tape, which was finally mixed in December 2001 by Ian MacKaye and Don Zientara, and released in 2003, is more than a curiosity or historical document from the birth of US hardcore, but an exhilarating and biting slab of breathless young punk on the verge of a ground-breaking sound. 
TRACKLIST: 
Minor Threat 

Stand Up 

Seeing Red 

Bottled Violence 

Small Man, Big Mouth 

Straight Edge 

Guilty Of Being White 

I Don't Wanna Hear It 
US import 
CD housed in gatefold card jacket with 4mm spine 
Includes card insert with notes and snapshots from the recording 
also available: 
Minor Threat - Minor Threat   LP 
Minor Threat - Out Of Step   LP 
 
see also: 
Mark Anderson & Mark Jenkins - Dance Of Days: Two Decades Of Punk In The Nation's Capital   paperback

browse collections: 
Dischord Records collection 
---
We Also Recommend
---