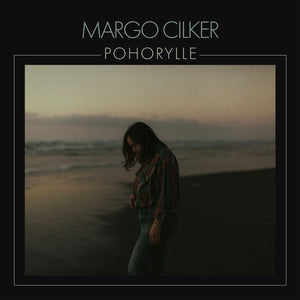 Margo Cilker - Pohorylle
Margo Cilker is a woman who drinks deeply of life, and her debut record, Pohorylle, is brimming with it. For the last seven years, the Eastern Oregon songwriter has split her time between the road and various outposts across the world forging a path that is at once deeply rooted and ever changing. 
 
Pohorylle, which carries gentle nods to alt-country greats like Lucinda Williams, Townes Van Zandt, and Gillian Welch, is produced by Sera Cahoone, who also assembling a first-rate band that includes Jenny Conlee (The Decemberists) on keys, Jason Kardong (Sera Cahoone, Son Volt) on pedal steel, Rebecca Young (Lindsey Fuller, Jesse Sykes) on bass, Mirabai Peart (Joanna Newsom) on strings, Kelly Pratt (Beirut) on horns, and the album's engineer John Morgan Askew (Neko Case, Laura Gibson) on an array of other instruments. The record also prominently features effortless harmonies from Sarah Cilker, Margo Cilker's sister and frequent touring partner. 
 
As Pohorylle traverses through the geography of Cilker's memories - the touring musician's tapestry of dive bars and breathtaking natural beauty - love is apparent, as is its inevitable partner: loss. For what bigger heartbreak is there to be a fierce lover who must always keep moving? Cilker seems keenly aware of the precarious footing upon which love stands, and at many turns the record carries the desperation of being in the presence of something that is staggeringly beautiful, and slipping away. 
TRACKLIST: 
That River 

Kevin Johnson 

Broken Arm In Oregon 

Flood Plain 

Tehachapi 

Barbed Wire (Belly Crawl) 

Chester's 

Brother, Taxman, Preacher 

Wine In The World 
LP contains download coupon 
CD housed in gatefold card jacket with 4mm spine 
browse collections: 
Americana collection 
view all new releases... 

---
We Also Recommend
---