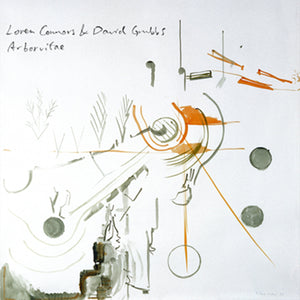 Loren Connors & David Grubbs - Arborvitae
This is the first LP release of Loren Connors and David Grubbs' Arborvitae, originally released on CD by the Swedish label Häpna in 2003. 
Loren Connors and David Grubbs first performed as a duo on May 30, 2003 at the Green-Wood Cemetery Chapel in Brooklyn, NY. Green-Wood Cemetery is one of Brooklyn's landmarks - it's the highest natural point in the borough, and an unexpected expanse of tranquillity in the midst of the city. The stone interior of the chapel makes the quietest of sounds audible, and Loren and David played a remarkably quiet yet extraordinarily varied hour of improvised music. Energised, they repaired to the studio to record Arborvitae. 
It certainly could have happened earlier. David first heard Loren's In Pittsburgh LP in 1990, and felt it a revelation. Loren's example of creating silences, of singing - with the guitar - in silences, was crucial to David's shift from the rock trio Bastro to the often percussionless Gastr del Sol. David and Jim O'Rourke reissued In Pittsburgh several years later on their Dexter's Cigar label, and Loren and Gastr del Sol performed a number of shows on the same bill, including the 1996 Table of the Elements Yttritum festival in Chicago. 
Arborvitae opens and closes with the pairing of David on piano and Loren on an electric guitar played so quietly that at times his pedal-stomping is wondrously distinct. 'Blossom Time' and the title track positively float, with Loren alternating between soaring single-note lines and playing the rough, barnacled anchor to David's relentless tide. David's approach to the piano recalls his playing on Palace's Arise Therefore and his own Banana Cabbage, Potato Lettuce, Onion Orange. Loren hypnotises throughout. This is one of the rare instances up to this point in his career that he had recorded in a commercial studio, and his playing, time and again, rewards such a detailed recording. 'The Ghost of Exquisite' and 'Hemlock Path' are two slow-motion lockings of guitar horns. 'The Highest Point in Brooklyn' isn't the place to be in an electrical storm - but it rolled in all of a sudden and there we were, uncovered and open to the elements... 
TRACKLIST: 
Blossom Time  [4:28] 

Arbovitae  [10:12] 

Ghost Of Exquisite [7:25] 

Hemlock Path  [5:25] 

The Highest Point In Brooklyn  [6:26} 
Housed in gatefold jacket with 6mm spine 
see also: 
David Grubbs & Nikos Velitos - The Harmless Dust   LP 
Susan Howe & David Grubbs - Concordance   LP 
Loren Connors & Oren Ambarchi - Leone   LP 
Loren Connors - Beautiful Dreamer   10" 
Kath Bloom & Loren Connors - Sand In My Shoe   LP 
Kath Bloom & Loren Connors - Restless Faithful Desperate   LP 
Kath Bloom & Loren Connors - Moonlight   LP 
Dirty Three - Ocean Songs   2LP 

browse collections: 
Experimental & Avant-Garde collection 

browse all new releases... 
---
We Also Recommend
---