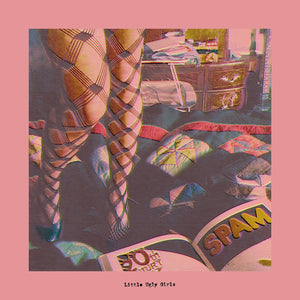 Little Ugly Girls - Little Ugly Girls
Debut album from legendary Australian noise-punk band. Recordings spanning more than 20 years, including tracks once thought completely lost.
Little Ugly Girls formed in Hobart, Tasmania in the very early 90s, but have never released a record until now. This new self-titled set is officially their debut album, and features recordings spanning more than 20 years. The band formed around fiery vocalist Linda Johnston, whose high-kicking stage antics make her one of Australia's most electrifying frontpeople, and her guitar demon brother Dannie "Bean" Johnston. After moving to Melbourne in the mid 90s, the band enlisted drummer Brent "Sloth" Punshon on drums, and bassist Mindy Mapp (previously of Brisbane's much-loved Fur). Little Ugly Girls played with the likes of Bikini Kill, and Fugazi, but their only recordings released to date include a handful of 90s cassettes.
Now, nearly 30 years since they formed, the debut album by Little Ugly Girls shows them at their towering best - fierce and inspiring, with Linda's scarifying lyrics and impassioned delivery set to a huge wall of taut punk noise. It has been a long time coming, but it's as good as you could have dreamed.
Tracklist:
Tractor

Slip

Jimmeh

Senseless

Baggage

The Pit

Storm After Storm

Dead C

Snap

Tardis

Vinegar

Boxen-Hooda-Hayda
One-off vinyl pressing of 500 copies.
---
We Also Recommend
---