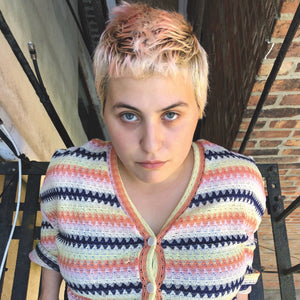 Lily Konigsberg - Lily We Need To Talk Now
Lily We Need To Talk Now is a record Konigsberg has been slowly chipping away at since 2016, revising and re-recording the songs over the years. The eleven-track collection is her first proper full-length, following her anthology of EPs and unreleased tracks, The Best of Lily Konigsberg Right Now, released in 2021 by Wharf Cat Records. 
 
Produced by Nate Amos (Water From Your Eyes, My Idea), Lily We Need To Talk Now is an album greater than the sum of its parts; essentially a indie-rock record, it is also avant-electro-pop, and it is also brash-punk-pop, and Konigsberg weaves these strains seamlessly and comfortably, as her voice twists and turns around her clever wordplay and sugary melodies. 
 
True to its title, this collection of songs is like a check in with herself. On 'That's The Way I Like It', with backing vocals from long-time collaborator Paco Cathcart, she reflects on the feeling of "struggling with someone you love, and how you can get all evil about it, like a brat, like a baby." On 'Proud Home', she sings one of the record's boldest earworm hooks ("You've got a lot of fucking things to be proud of!") and tries to comfort a friend who has a crush on her mom. "I really cracked myself up with the lyrics," she says. "It's kind of a Stacey's Mom riff. I decided it's a dedication to Adam Schlesinger [of Fountains of Wayne]." 
 
The Brooklyn-born Konigsberg has become a fixture of the NYC underground in recent years, both through her solo output and as one-third of of skronky-punk trio Palberta (and bandmate Nina Ryser is also present here on drums). 
TRACKLIST: 
Beauty 

Sweat Forever 

That's The Way I Like It 

Alone 

Don't Be Lazy With Me 

Proud Home 

Hark 

Bad Boy 

Roses, Again 

Goodbye 

True 
US import 
Yellow vinyl available exclusively from independent stores 
CD housed in digipack case 
also available: 
Lily Konigsberg - The Best Of Lily Konigsberg Right Now   LP | CD 

see also: 
Nina Ryser - Paths Of Color   LP 

browse all new releases... 
---
We Also Recommend
---