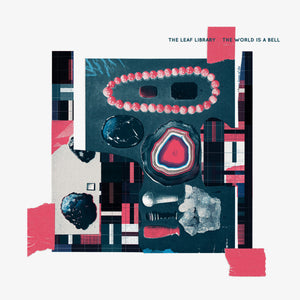 The Leaf Library - The World Is A Bell
The World Is A Bell is an ambitious and expansive update of The Leaf Library's warm, hypnotic drone-pop encompassing gently pulsing electronics, chiming guitars, minimalist piano, acoustic and synthesised drones, noise, improv and intricate brass and string arrangements, all in the service of the band's most assured and experimental songwriting yet. 
 
Two years in the making, The World Is A Bell was released in 2019 and features guest contributions from (amongst others) celebrated singer Ed Dowie, noise group Far Rainbow, fellow space-pop travellers Firestations and the string quartet Iskra Strings. It draws on all aspects of the band's work so far, from indie guitar pop to ambient atmospherics, via surging rhythms and layered, melancholic vocals. 
 
This is the band's second album (seventh if you count the various remix, side-project and short run CDR and tape releases they have put out over the last few years), and follow's 2015's debut Daylight Versions. 
 
Titled after a Johann Wolfgang von Goethe quote ("The world is a bell that is cracked, it clatters but does not ring out clearly") the album turns its attention away from the coastal obsessions of Daylight Versions to more surreal and atmospheric contemplation. The World Is A Bell is an album of dense and unhurried songs, rich in sonic detail and ambitious in scope, its music simultaneously intimate and epic. 
TRACKLIST: 
In Doors And Out Through Windows 

Hissing Waves 

Patience 

Larches Eat Moths 

The World Is A Bell 

Bright Seas 

Bodies Carried Of By Bees 

An Endless 

More Than Half Asleep 

Paper Boats On Black Ink Lake 
also available: 
The Leaf Library - About Minerals   LP 
The Leaf Library - Library Music: Volume One   2LP 

---
We Also Recommend
---