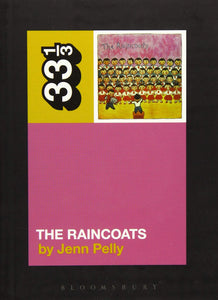 Jenn Pelly - The Raincoats
In 1979, from the basement of a London squat, the Raincoats reinvented what punk could be. They had a violin player. They came from Portugal, Spain, and England. 
 
Their anarchy was poetic. Working with the iconic Rough Trade Records at its radical beginnings, they were the first group of punk women to actively call themselves feminists. In this short book - the first on the Raincoats - author Jenn Pelly tells the story of the group's audacious debut album, which Kurt Cobain once called "wonderfully classic scripture." Pelly builds on rare archival materials and extensive interviews with members of the Raincoats, Sleater-Kinney, Bikini Kill, Hole, Scritti Politti, Gang of Four, and more. 
 
She draws formal inspiration from the collage-like The Raincoats itself to explore this album's magic, vulnerability, and strength. 

123 x 164 mm
see also: 
The Raincoats - The Raincoats   LP | CD 
The Raincoats - Odyshape   LP | CD 
The Raincoats - Extended Play   10" EP | CD EP 
The Raincoats - Looking in the Shadows   CD 
---
We Also Recommend
---