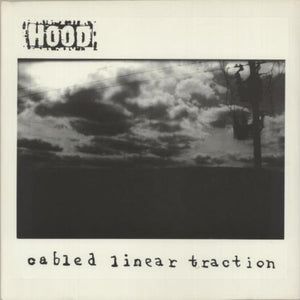 Hood - Cabled Linear Traction
Hood were a prolific band from Leeds, formed in 1990 by brothers Richard and Chris Adams. Their knack of combining lo-fi noise inventiveness with an indie-songwriting brilliance, led them to become one of the most beloved and respected bands in the UK underground. Along with bands like Flying Saucer Attack, they helped create a new vocabulary in raw-experimentation and 4-track tape manipulation that held genuine emotional weight, outsider-pop appeal, and a rural post-rock foresight. 
 
Cabled Linear Traction was originally issued in a small vinyl-only edition on Fluff Records in 1994 before being repressed in the US by Slumberland in 1995. This CD reissue was released in 1999. 
TRACKLIST: 
Norfolk 

Evening Return 

Untitled 

The Hay Harvest Had Special Charms 

An Oblique View Of An Irrationally Happy Time 

Small Town Prejudices 

Abstracting Electricity 

A Spell Of Rain 

Fades To End A Day 

Fashion Mistake Of The Decade 

Summers Last Annual 

Coastal Driftings 

British Radars 

Church, Circular 

Be Nice To Everyone At All Times (With Few Important Exceptions) 

Finite Differences 

Highly Competitive Cut Throat World 

9 Untitled #2 

A Thinly Veiled Excuse For Something More 
US import 
Housed in jewel case 
also available: 
Hood - Compilations 1995-2002   CD 
Hood - The Hood Tapes   LP 

see also: 
The Declining Winter - Belmont Slope   LP | CD 
The Declining Winter - The Definition Glance   7" 
The Declining Winter - Really Early, Really Late   2LP | CD 
Memory Drawings - A Few Scattered Hours   CD 
browse collections: 
Slumberland Records collection 

---
We Also Recommend
---