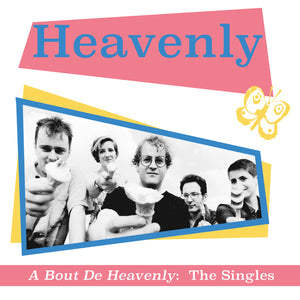 Heavenly - A Bout De Heavenly: The Singles
Heavenly's classic singles on a brand new compilation album! 
Heavenly were an indie band, originally forming in Oxford, England in 1989. Amelia Fletcher (vocals/guitar), Mathew Fletcher (drums; Amelia's brother), Peter Momtchiloff (guitar) and Robert Pursey (bass) had all been members of Talulah Gosh, a key band of the C86 scene. 
Heavenly debuted with the 7" single 'I Fell in Love Last Night', followed by another 7", 'Our Love Is Heavenly', both released in 1990 on Sarah Records. Heavenly vs. Satan, the group's debut album, came out in 1991. At this stage in their career, Heavenly's songs were still mainly concerned with an innocent view of love, whether or not requited, and the instrumentation remained very much the same jangly guitar style used by Talulah Gosh. Before releasing the critically acclaimed Le Jardin de Heavenly, Cathy Rogers (keyboard, back-up vocals) joined the band. Her harmony vocals and keyboards became an integral part of the group's sound. 
Before their next long-player, Heavenly released two non-album 7" singles, 'P.U.N.K. Girl' and 'Atta Girl'. These signalled a growing complexity in Amelia's songwriting, particularly 'Atta Girl', in which Amelia and Cathy sung in rapid-fire trade-off vocals. A broadening (and darkening) of lyrical subject matter was shown in the B-side, 'Hearts and Crosses', which told the story of a date rape, with an upbeat keyboard riff providing an ironic counterpoint. 
The band's third LP was The Decline and Fall of Heavenly (1994). Here the group were at their most commercial and at their most attuned with the growing Britpop movement. The arrangements expanded even more to include strings and a large amount of percussion, and the dual-vocal trick was used on several tracks. Lyrically, the old romantic view of love was largely banished, but the tunes remained as upbeat and joyful as ever. 
The group's last album was Operation Heavenly (1996). Arriving in the middle of the Britpop boom, the album contained such fine singles as 'Space Manatee' and 'Trophy Girlfriend'. Despite the closing of Sarah Records and release on Wiiija, the album was still recognisably the Heavenly sound. Shortly before the release of Operation Heavenly, Mathew Fletcher, the band's drummer and Amelia's brother, committed suicide. The remaining members announced that the band name Heavenly was to be retired, but continued under the name Marine Research, releasing Sounds from the Gulf Stream in 1999.  Amelia Fletcher and Rob Pursey would go on to form Tender Trap, and, most recently, The Catenary Wires. 
TRACKLIST: 
I Fell in Love Last Night 

Over and Over 

Our Love is Heavenly 

Wrap My Arms Around Him 

She Says 

Escort Crash on Marston Street 

So Little Deserve 

I'm Not Scared of You 

Atta Girl 

P.U.N.K. Girl 

Hearts and Crosses 

Dig Your Own Grave 

So? 

Trophy Girlfriend 

Space Manatee 

You Tore Me Down 

Art School 
CD housed in gatefold card jacket with 5mm spine 
also available: 
Heavenly / Bis - Trophy Girlfriend / Keroleen   7" 

see also: 
Talulah Gosh - Was It Just A Dream   2LP | CD 
Marine Research - Sounds From The Gulf Stream   LP | CD 
The Catenary Wires - Birling Gap   LP | CD 
Swansea Sound - Indies Of The World / Je Ne Sais Quoi   7" 
Swansea Sound - Live At The Rum Puncheon   LP | CD 

---
We Also Recommend
---