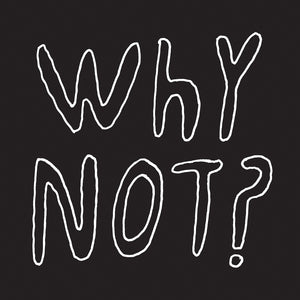 Half Japanese - Why Not?
Half Japanese have returned to peel further layers from their onion. They have a new album that's a square further on in their unpredictable musical snakes and ladders board. 
 
Why Not? is a magical thing – it's Springsteen's Born To Run recorded in a cupboard, it's an ode to love, it's a Wire song with two duelling guitarists being Zappa on helium, it's Parquet Courts in a tantrum, it's The Crickets contorted into ? and The Mysterians, it's everywhere and nowhere, baby, it's where it's at. 
 
On Why Not? nuances are mused, situations explained, questions asked. Outside, zombies and demons roam and everyday aliens emerge from spaceships: it's a technicolor film transcribed by Jad Fair and friends John Sluggett, Gilles-Vincent Rieder, Mick Hobbs and Jason Willett, their faces at the cracked window of their subterranean habitat looking out at the real world. 
 
They're on a high from their last release: "After all these years, his wiry voice still hits every song with a shock that's equal parts joy buzzer and defibrillator, each barely in-key bleat alternating between laughable and life-affirming," said Pitchfork of their last opus 'Hear The Lion Roar'. To which All Music added that "after nearly 40 years of music-making, they're still creating some of the most engaging recordings of their lives, and that's truly something to believe in." 
 
Why Not? goes further. It's an even more intense concoction, it's further out there. It contains pieces of fluffy thought-provoking music, a bag of sentiments delivered with a real sense of wonderment at how the normal world revolves; all powered with heart and soul, some crunchy guitars, a cello and reverb set-to-kill infiltrating their storytelling. 
 
'Why'd They Do It?' quizzes track 11. Because they can. 
TRACKLIST: 
The Future Is Ours 

The Face 

Why Not? 

 Amazing 

Demons Of Doom 

A Word To The Wise 

Bring On The Night 

Zombie Island Massacre 

Better Days 

Spaceship To Mars 

Why'd They Do It? 

Magic 

Falling 
LP contains download card 
also available: 
Half Japanese - Half Gentlemen/Not Beasts   2LP | 3CD 
Half Japanese - Charmed Life   LP 
Half Japanese - Volume 4: 1997-2001   3LP 
Half Japanese - Invincible   LP | CD 
Half Japanese - Crazy Hearts   LP | CD 
see also: 
Jad Fair & Daniel Johnston - It's Spooky   2LP+flexi 
Jad & David Fair - Monster Songs For Children   LP 
Jad & David Fair - Halloween Songs   LP 
Jad Fair & Kramer - The History of Crying (Revisited)   LP 
Jad Fair & Samuel Locke Ward - Happy Hearts   LP 

---
We Also Recommend
---