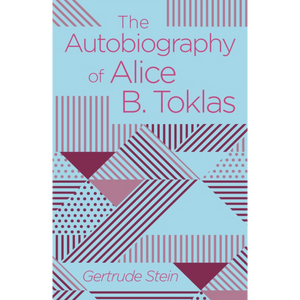 Gertrude Stein - The Autobiography Of Alice B. Toklas
A witty and beautifully written account of the lives of Gertrude Stein and her wife Alice B. Toklas and a fascinating look into early 20th century Paris and the development of modernist culture.
Written in the voice of her life partner, The Autobiography of Alice B. Toklas is a remarkable literary achievement. By turns experimental, insightful and bitingly satirical, Stein's great biography is both deeply personal and wide-ranging in its ambition. As she recounts her life from the fin de siecle up to the 1930s, she tells the story of the Parisian art scene, including modernist masters like Cezanne, Matisse and Picasso, the impact of World War I on contemporary France, and her encounters with brilliant literary figures like Ernest Hemingway and Sherwood Anderson.
paperback  |  288 pages  |  195x129mm
Also available:
Gertrude Stein - Tender Buttons   paperback
Gertrude Stein - The World Is Round   hardback
Gertrude Stein - Food   paperback
---
We Also Recommend
---