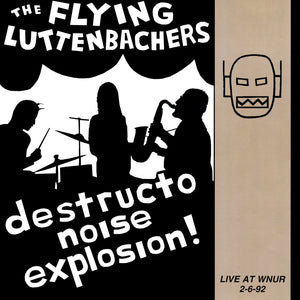 The Flying Luttenbachers - Live At WNUR 2-6-92
Originally released on cassette in 1992 and then CD in 1996, Live at WNUR is The Flying Luttenbachers' first transmission to Earth - a furious snapshot into the early days of the band, featuring the incredible line-up of Weasel Walter (drums) Hal Russell (tenor and soprano saxophones, trumpet) and Chad Organ (tenor saxophone) - available on vinyl for the first time.
The Flying Luttenbachers have quite an impressive history for a band whose lineup seems to be constantly in flux. The one constant is drummer Weasel Walter, who formed the band in Chicago in 1991. Walter was a fan and pupil of Hal Russell, leader of the explosive NRG Ensemble. Walter's friend Chad Organ joined them and the trio became the Flying Luttenbachers. That lineup made its first and only public appearance February 6, 1992 on a college radio station. Live at WNUR is similar to some of Russell's NRG Ensemble work, but more frenzied and loosely constructed. This is the Luttenbachers at their closest to pure jazz (including performances of Albert Ayler's 'Witches and Devils' and 'Ghosts'), but with also clear post-punk/no-wave influences; it is fast and furious, upbeat and funny. The band's ethos is already evident: short bursts of noise strung together with energetic abandon, yet somehow evincing an aura of control and overall melody. 
TRACKLIST: 
Survivors Suite 

Playing In The Dumpster 

Witches And Devils 

Throwing Bricks 

Edge Of Night 

Free 

Ghosts 

Sram 
also available on Improved Sequence: 
David Grubbs & Nikos Velitos - The Harmless Dust   LP 
Loren Connors & David Grubbs - Arborvitae   LP 


browse collections: 
Free jazz collection 
Experimental & Avant-Garde collection 
browse all new releases... 
---
We Also Recommend
---