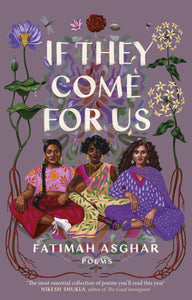 Fatimah Asghar - If They Come For Us
Poet and co-creator of the Emmy-nominated web series Brown Girls captures her experience as a Pakistani Muslim woman in contemporary America, while exploring identity, violence, and healing.

an aunt teaches me how to tell
an edible flower
from a poisonous one.
just in case, I hear her say, just in case.

Orphaned as a child, Fatimah Asghar grapples with coming of age and navigating questions of sexuality and race without the guidance of a mother or father. These poems at once bear anguish, joy, vulnerability, and compassion, while also exploring the many facets of violence: how it persists within us, how it is inherited across generations, and how it manifests itself in our relationships. In experimental forms and language both lyrical and raw, Asghar seamlessly braids together marginalized people's histories with her own understanding of identity, place, and belonging.
'Fatimah Asghar's debut collection brought me to tears many times over. It is urgent, compelling and filled with fragments of history that have changed the face of the world. Its exploration of queerness, grief, Muslim identity, partition and being a woman of colour in a white supremacist world make this the most essential collection of poems you'll read this year' Nikesh Shukla, editor of The Good Immigrant, author of The One Who Wrote Destiny.
---
We Also Recommend
---