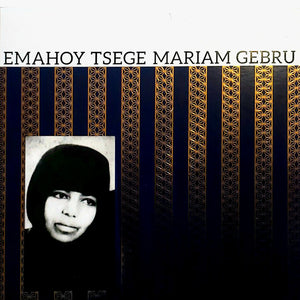 Emahoy Tsegue Mariam Guebru - Emahoy Tsegue-Mariam Guebru
This album is the second LP in Mississippi Records' ongoing series of releases from Emahoy Tsege Mariam Gebru, following Spielt Eigene Komposition, collecting her early solo piano works, recorded throughout the 1960s. 
 
Emahoy Tsege Mariam Gebru is a true original - her compositions and unique playing style live somewhere between Erik Satie, Debussy, liturgical music of the Coptic Ethiopian Church, and Ethiopian traditional music. It is some of the most moving piano music you will ever hear!
 
These original compositions, performed by Emahoy Tsege Mariam Gebru herself on solo piano, were originally self-released in Germany in small editions as fundraisers for orphanages, support organisations for widows of war victims, and other philanthropic causes.
 
Released in collaboration with the Emahoy Tsege Mariam Music Publisher and Foundation to assist in continuing her life-long mission of using music as a vessel to care for those who have been abandoned by society, or harmed by strife. Each of these original compositions are made available for the first time on vinyl since the original early-1960's editions, which are now completely impossible to find.  A must have master piece for anyone who needs some spiritual comfort.
TRACKLIST: 
Mothers Love 

Song Of The Sea 

Golgotha 

Jordan River Song 

Garden Of Gethesemanie 

Song Of Abayi 

Story Of The Wind 

Evening Breeze 

Tenkou! Why Feel Sorry? 
US import 

LP housed in heavy cardstock jacket with gold foil printing 

CD housed in heavy cardstock gatefold jacket with matte finish and 7mm reinforced spine 

Includes liner-notes by Emahoy Tsegue Mariam Gebru 

Restored and remastered by Timothy Stollenwek 
also available: 
Emahoy Tsege Mariam Gebru - Spielt Eigene Komposition   LP | CD 
Emahoy Tsege Mariam Gebru - Jerusalem   LP 

browse collections: 
Mississippi Records collection 
Unclassical & Modern Composition collection 
African collection 

browse all new releases... 
---
We Also Recommend
---