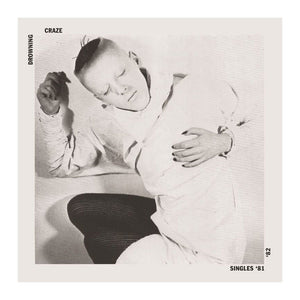 The Drowning Craze - Singles '81/'82
The history of post-punk is full of curious footnotes and sudden dead-ends. Fascinating bands that flared up, intoxicated with the rush of ideas and sense of creative freedom in that fertile period where there were no rules and boundaries to creativity for groups, leaving a vapour trail of a handful of singles and inevitable John Peel sessions before disappearing back into the ether.
The Drowning Craze are typical of those bands. Their legacy is three singles and a John Peel session, a glimmer of possibility and a hint of something quite wonderful, and then gone. Fortunately for them their constituent members re-emerged years later in other projects leaving them flagged up on the history train with the band's bassist Simon Raymonde going on to play in the Cocteau Twins before setting up his own label, Bella Union, and original vocalist, Angela Jaeger, joining Pigbag whilst their next singer, Frankie 'Fun' Nardiello, joined the esoteric Chicago industrial disco band Thrill Kill Kult.
In the myriad of open ends that came out of the big bang of punk rock, a darker, more melancholic, bass-driven soundscape soon emerged and The Drowning Craze, with their chorused bass lines and flanged, shattered guitars very much created their own corner.
Songs like 'Damp Bones' or the more upbeat 'Trance' reflect this mesmerising thrill of sound that saw them briefly considered the next great leap forward in that weekly music press embrace of weird and wonderful signposts to the future. The guitars swirl majestically and the bass holds down the post Joy Division spine of dark beauty – a furrow that The Cure would also mine with their new direction at that time. There was also an undertow of that dark art funk that was in the air and the skittering noise of post PiL new frontiers that label-mates at Situation 2 Bauhaus were turning their dark art-rock vision onto at the same time.
The band were very much of that Situation 2 brave new world of music, playing supports to the aforementioned and groundbreaking Bauhaus, the huge-in-America Modern English and also the cataclysmic The Birthday Party at their incendiary London shows.
These were the building blocks of what was then called 'alternative music' and would in a few years time be termed indie or Goth, blurring its artistic potential with poxy terms and misrepresenting the free-form brilliance with an attractive seam of darkness that made it so compelling at the time.
The Drowning Craze had formed in early eighties London with Simon Raymonde – the son of Ivor Raymonde who wrote hits for Dusty Springfield, such as "I Only Want To Be With You" and "Stay Awhile", and then string arranging for all the Walker Brothers hits. Simon played piano and violin at school, but took his own tangent when punk rock arrived and his brother got a cheap bass off The Vibrators' Pat Collier and gave it to Simon in 1977 aged 15 who promptly learnt the whole of Never Mind the Bollocks, the Sex Pistols first album, in one afternoon.
Inspired by punk rock/post punk and John Peel he was very much a child of those times. Glued to Peel's lugubrious tones on the radio that were signposting a way out of the crashed car of punk rock and into new musical soundscapes he would also help to carve as a foot soldier with the Drowning Craze.
The band's debut single "Storage Case" was released on Situation 2 in June of 1981 and was a glacial, perfect, blissful, post punk, dark wonk workout with a busy hypnotic chorus bass line and, what we would call at the time a 'shattered glass' guitar. It was their only release to feature the wonderful voice of New York singer Angela Jaeger who was in London studying music and theatre (and would eventually join Pigbag) and was made Single of the Week in the NME and Sounds. Inevitably the band fell victim to artistic difference, like any good band should, and the guitar player ran off and got a proper job as an accountant.
With Nardiello added on vocals the band cut two more singles and a Peel session – a fragment from a long-lost time of endless possibility and beauty. As a portal into the past, this kind stuff is invaluable – a glimpse into the deconstruct of rock'n'roll and a time when every instrument played lead and the verse/chorus/middle eight rock school mantra was deconstructed into a new kind of music that still sounds futuristic to this day.
TRACKLIST:
Storage Case

Damp Bones

Trance

I Love The Fjords

Heat

Replay
LP pressed on white vinyl; includes download code
---
We Also Recommend
---