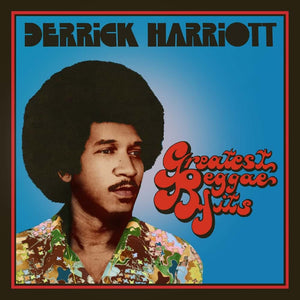 Derrick Harriott - Greatest Reggae Hits: Expanded Edition
By the mid-1970s, Derrick Harriott was already a veteran of the Jamaican music scene, having launched his singing career some two decades earlier. During the rock steady era, his productions included a score of hits, with his work widely regarded as being among the most accomplished of the era.
His hit rate continued unabated into the Seventies and by the time Trojan Records released his Greatest Reggae Hits album in 1975, Harriott was firmly established as one of reggae music's premier hit makers.
The best-selling collection was to have a profound influence on the developing sound of lovers rock, yet despite its popularity and significance, has, until now,  remained unavailable on CD.
The first disc of this deluxe expanded version of the album includes dub versions of nine of the album's dozen tracks, while the second disc showcases Harriott's follow-up long-player, Reggae Disco Rockers, the original UK release of which was pulled due to Trojan's abrupt demise in 1975. 
Including 33 tracks never before available on CD, Greatest Reggae Hits not only showcases some of the finest soulful reggae sounds ever to see issue, but also provides a wonderful opportunity to discover one of the most popular and influential reggae albums of the Seventies. 
TRACKLIST: 


CD1:
GREATEST REGGAE HITS 
Face Dog 

Being In Love 

Some Guys Have All The Luck 

I Told You So 

Let Me Down Easy 

Why Do Fools Fall In Love 

Go Away Dream 

Look Over Your Shoulder 

Trial Of Love 

Brown Baby 

Bucketful Of Tears (LP Mix) 

Since I Lost My Baby 



GREATEST HITS DUBWISE

Face Dog Version 

Love Version 

Some Guys Have All The Luck Version 

Easy Version 

Why Do Fools Fall In Love Version 

Look Over Your Shoulder Version In Dub 

Brown Baby Version 

Bucketful Of Tears Version 

Since I Lost My Baby Version 


CD2:
REGGAE DISCO ROCKERS 
Eighteen With A Bullet 

Love Is Just Around The Corner 

Fly, Robin, Fly 

Wish On A Star 

Caught You In A Lie 

Dancing The Reggae 

What About Me 

Reggae Train 

Castles In The Air 

Look At Me 

Bucketful Of Tears 

All Day Music 

Eighteen With A Bullet Version  [BONUS TRACK]



GREATEST HITS, PART 2

Lollipop Girl 

Have You Seen Her? 

Over The River 

Close To Me 

Don't Rock The Boat 

Day By Day 

What Can I Do 

Medley In Five, Parts 1 & 2 
Includes booklet with liner notes and original artwork 
Housed in clear jewel case 
Browse collections: 
Reggae collection 
view all new releases... 

---
We Also Recommend
---