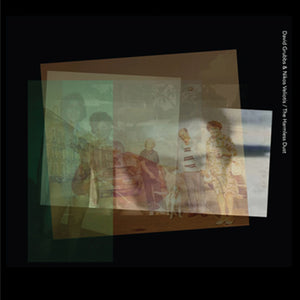 David Grubbs & Nikos Velitos - The Harmless Dust
The Harmless Dust is a unique release in the discographies of both David Grubbs and the Athens-based cellist Nikos Veliotis (Mohammad). In 2005 the duo were on tour in the US in support of Grubbs's album A Guess at the Riddle when they took a most productive break at John McEntire's Soma Studios, over the course of a day laying down something utterly different from the song-based set they were playing most evenings. 
The Harmless Dust presents the same composition in two arrangements: one for piano and cello (played with a curved bow that makes it possible to sound multiple strings simultaneously) and the other for Hammond organ and multi-tracked e-bowed piano. The result is a beautiful, patient, melancholy and engrossing instrumental piece. 
The piece was first performed live in Tokyo and then released on CD in Japan by the Headz label; this is its first release on LP, with new artwork by Nikos Veliotis from the same series that yielded the original design. 
TRACKLIST: 
The Harmless Dust (Part One)  [17:04] 

The Harmless Dust (Part Two)  [24:04] 
see also: 
Loren Connors & David Grubbs - Arborvitae   LP  
Susan Howe & David Grubbs - Concordance   LP 
Dirty Three - Ocean Songs   2LP 

browse collections: 
Experimental & Avant-Garde collection 
Unclassical & Modern Composition collection 

browse all new releases... 
---
We Also Recommend
---