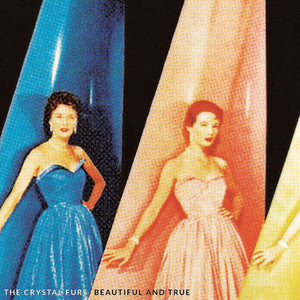 The Crystal Furs - Beautiful And True
Portland, OR-based three-piece The Crystal Furs have made their most honest and honed album yet in Beautiful and True, riding he perfect wave between jangly '80s indie and the bittersweet harmonies of '60s girl groups, with catchy pop melodies, and personal/political punk lyricism. 
Technically their third long player, the band see this as a second debut, coming as their first album "out and living as our real selves". Getting a limited release on CD and digital through SubJangle in 2020 the album has been remastered and is coming to vinyl for the first time through Reckless Yes. 
Writing melodic, textured songs about anxiety, architecture, lesbians, and queer feels, The Crystal Furs' Beautiful and True is loud music for quiet hearts.  
TRACKLIST: 
Comeback Girls 

Expo 67 

Pretty Mind 

Panther City Pariah 

Too Kind to be Cruel 

Like You 

Burn Us Down 

Hey Maxine 

Artoria 

Drag You Away 

The Robber Barons of Lombard Street 

Second Time Around 
Pressed on opaque pink vinyl 
also on Reckless Yes Records: 
Paper Birch - morninghairwater   LP 

view all new releases... 

---
We Also Recommend
---