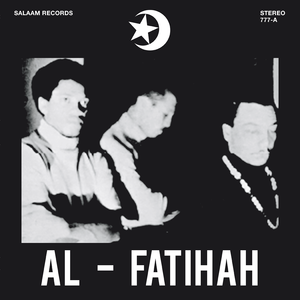 Black Unity Trio - Al-Fatihah
Formed in Oberlin, Ohio by Abdul Wadud, Yusuf Mumin, and Hasan Al Hut, the Black Unity Trio released their debut album, Al-Fatihah, possibly the first independently-released free jazz record, in May 1969 on Salaam Records. 
 
There was an intense, though relatively short-lived, hotbed of avant-garde jazz in Cleveland, Ohio during the mid-to-late 1960s, with many young groups performing at private clubs, as well as Leo's Casino, Jazz Temple, The Doan Club, and Le Cave. 
 
The Black Unity Trio recorded Al-Fatihah on December 24 1968 at Agency Recording Studio (which was located upstairs in the building housing the legendary Agora Theatre in Cleveland, Ohio). Released in an edition of 500 copies, the album has become legendary, and highly sought-after, in the decades since. Much mystery surrounded the origins of the album, as well as the status of the musicians, until 2020 when The Wire published an interview with Hasan Al Hut. 
 
This high-quality all-analogue (AAA) reissue has been mastered from the original 1968 tapes by multi-Grammy Award-winning Paul Blakemore, and is presented in its original Salaam Records sleeve and label artwork.
TRACKLIST: 
Birth, Life, and Death 

In Light Of Blackness 

Opening Prayer 

John's Vision 

Al-Nisa 

Final Expression 
US import 
Pressed on 150g vinyl 
Includes insert with lyrics and extended liner notes by Ras Moshe 
Housed in recycled-board sleeve and anti-static rice-paper inner 
Gotta Groove Records pays 50% of profits to the musicians 
browse collections: 
Free jazz collection 
Experimental music collection 
browse all new releases... 

---
We Also Recommend
---