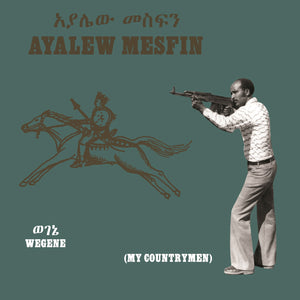 Ayalew Mesfin - Wegene (My Countrymen)
Ayalew Mesfin stands aside the likes of Mulatu Astake, Mahmoud Ahmed, Hailu Mergia and Alemayehu Eshete as a legend of 1970s Ethiopia. Mesfin's music is some of the funkiest to arise from this unconquerable East African nation. 
 
Mesfin's recording career, captured in nearly two dozen 7" singles and numerous reel-to-reel tapes, shows the strata of the most fertile decade in Ethiopia's 20th century recording industry, when records were pressed constantly by both independent upstarts and corporate behemoths, even if they were only distributed within the confines of this East African nation. 
 
Though Mesfin was forced underground by the Derg regime that took control of Ethiopia in 1974, he has returned almost fifty years later to release a series of albums with Californian label Now-Again Records, built from his uber-rare 7" single releases and previously unreleased recordings taken from master tapes. Along with the equally essential collections Good Aderegechegn, Che Belew, and Tewedije Limut, Wegene gives us a chance to discover a rare & beautiful moment in music history. 
TRACKLIST: 
Teregew Nebere (You Used To Understand) 

Neye Temelesh Belwat (Tell Her To Come Back) 

Wegene (My Countrymen) 

Ambassel (Ambassel) 

Rehab (Hunger) 

Endetnesh Belulegn (Ask How She's Doing) 

Tzitash Zewetir (Your Memories Always) 

Wubalem (Stunning) 
LP contains oversized 11" x 11" 16 page book telling the story of modern Ethiopian music and Mesfin's role within it 
also available: 
Ayalew Mesfin - Good Aderegechegn (Blindsided By Love)   LP | CD 
Ayalew Mesfin Che Belew (March Forward)   LP | CD 
Ayalew Mesfin - Tewedije Limut (Let Me Die Loved)   LP | CD 
---
We Also Recommend
---