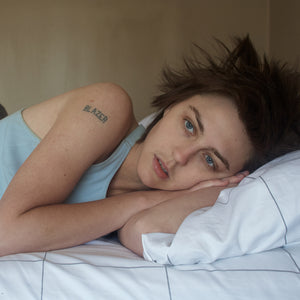 Anna McClellan - I Saw First Light
The third album from Omaha, Nebraska-based songwriter, Anna McClellan, entitled I Saw First Light, obliquely relates a tumultuous year in the life of its composer. Moving, geographically, from the heart of New York City to a bucolic retreat upstate, and finally back to her midwestern hometown, Anna also traversed emotional states - from the restless frenzy of urban life, to the enforced, depressive rumination of the country. Her vision - one artist's reckoning with her forebears and coevals, along with her ongoing obligation to use art as a tool for connection and understanding - coalesced, upon her return to Nebraska, with the help of local friends, into the album.
Anna McClellan began performing original songs in her hometown of Omaha at the age of seventeen and has been actively recording and touring ever since. Her debut, Fire Flames, earned her an opening slot on a Frankie Cosmos tour. Through the doors that tour opened, McClellan eventually met Father/Daughter Records which led to the release of her second full-length record, Yes and No, in 2018.
I Saw First Light was recorded over two weeks with a multitude of local cohorts, and it documents Anna's journey from the Midwest to the east coast and back again, probing both the roots of her creative impetus and her ongoing commitment to social issues. Perhaps as a result of shifting geographic situations, the album seems to embrace both a rural simplicity in its country-indie lo-fi twang and a knowing NYC anti-folk confessional side-eye, reminiscent of Schwervon! and Moldy Peaches, as well as the Velvet Underground.
TRACKLIST:
Con S Sewer

Raisin

Desperate

Feel You

To Prove

Pace of the Universe

Celery

Gone

Trying too Hard

Veronica

No Wind
First pressing of LP pressed on pink vinyl; LP and cassette include download coupon
---
We Also Recommend
---